TERATISM – LA BAS MLP (Negativity Records)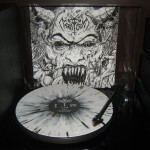 Sometimes a label pulls out all the stops, presentation-wise, and elevates a release head and shoulders above the competition. (Debemur Morti Productions, for example, does this on a regular basis.) Negativity Records – which was previously unknown to me – appears to be another fledgling label that places a major emphasis on quality; they've certainly executed a stand-out job with 'La Bas', a wonderful four-track mini-album from demonic US quintet Teratism.
Normally, with just four songs on offer, one would expect to get fuck-all bang for their buck. But that's not the case with 'La Bas', which is a vinyl-only release, limited to 500 units. First of all (and most importantly(?)), the music is fantastic. Bestial, diabolical incantations ejaculated forth from Satan's loin (where they've been festering for a few years, I believe), the songs are imbued with a genuinely unsettling, perverse and corrupt identity, leaving the listener in no doubt as to the validity of the artists' convictions.
Secondly (and perhaps the real clincher), there's the aesthetics of the record: white and black splatter housed within a strong casing, including poster (yahoo!) and twelve-page booklet. Lots of cool artwork, a band photo and lyrics to all four cuts (including the Black Widow cover – my father-in-law used to listen to them…) are to be found herein.
In this cold, digital, quick-fix, cheap-thrills era, an investment of time and imagination such as this potentially makes all the difference. A good record can become a great one. The customer is purchasing an actual product; something truly unique and fetching that could never be downloaded. Do judge a book by its cover! If it walks like a dog, barks like a dog, shits like a dog … well, chances are it's a dog.
I'd lost track of Teratism in the five years since 'Pure Unadulterated Hate' but will now be watching out, breath bated, for their imminent fifth full-length. The only downside of 'La Bas' is that it's all over too quickly, but a whole LP's worth of material in this style – and of this calibre – would be truly immense.
Evilometer: 666/666