HORNA – ENVAATNAGS EFLOS SOLF ESGANTAAVNE 2LP (Blut & Eisen Productions)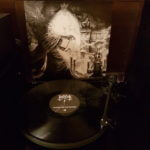 Horna's 2004 full-length, 'Envaatnags Eflos Solf Esgantaavne', truly epitomises everything that's so exceptional about these Finnish stalwarts, encapsulating the bleak horde's uncanny knack for perfectly combining rawness with just the right amount of melody to deliver stellar Black Metal worthy of adulation.
I'm delighted this double-vinyl edition has been given a long-overdue reissue as this is without doubt the definitive version of arguably Horna's finest release – their fourth of nine LPs to date – featuring 13 tracks in total, six of which are not included on the CD (although 'Kuilunhenki' is omitted, to balance things up a little bit).
These records contain 81 minutes of prime northern darkness that never let up, from that instantly-recognisable, insidious riff of majestic opening ode 'Vihan tie' right through to the bitter end, cementing Horna's place in Black Metal's Hall of Infamy. One of the great albums of our time.
Evilometer: 666/666