ARCKANUM – KAMPEN 2LP (Essential Purification Records)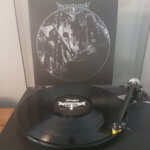 Arckanum existed for more than a quarter of a century up until 2018 and is firmly established as one of the most important and influential Scandinavian Black Metal forces of all. During this time, sole visionary Shamaatae recorded no fewer than nine full-lengths, of which the opening triumvirate – 'Fran Marder', 'Kostogher' and 'Kampen' – are particularly iconic, landmark releases. For me, these three are virtually inseparable in terms of their quality and the lasting impression they made.
Initially unleased in 1998, 'Kampen' is the third and perhaps most celebrated Arckanum album of all. Featuring 73 minutes of inimitable, occult, chaos-worshipping, anti-cosmic Satanism performed in an authentic Old Swedish tongue, it is a deeply spiritual and personal channelling of Thursian powers that remains unique and fresh even all these years later. Due to both its historic significance and the trailblazing, singular nature of the music, 'Kampen' is worthy of a prominent place in every discerning Black Metal collection.
While the album has enjoyed many resurrections down through the years, this is the first reissue of note since Debemur Morti's classy digibook CDs from 2009. And the glorious new double-vinyl edition sure does justice to the enduring legacy of a truly wondrous, mystical piece of Black Metal majesty from bygone times. Joined by his blood brother, Sataros, on this one, Shamaatae produced a masterpiece that most of the pretenders masquerading as Black Metal today could barely dream of.
From start to finish, the atmosphere and might of the art is all-consuming – haunting, harrowing, ominous and shrouded in magickal mystique, boasting a refreshing charm and boldness that takes one's breath away. This stunning edition looks as fantastic as it sounds. The 180g records are packaged inside a luxurious gatefold jacket, with beautiful artwork and a booklet / lyric sheet included. The eleven spells have been re-mastered for vinyl, too, adding to the already-considerable appeal.
Evilometer: 666/666