ARIZMENDA – STILLBIRTH IN THE TEMPLE OF VENUS 2LP (Androgony Whore)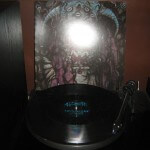 These records constitute an incredible labour of love from the one-man maniac that is Arizmenda. The vinyl edition of 'Stillbirth In The Temple Of Venus' represents a remarkable personal triumph for Murdunbad, who has dungud by realising his vision in spectacular style.
The sick booklet that has been lovingly / loathingly stitched together in the most impressive DIY / homemade fashion epitomises everything that's so great and admirable about underground Black Metal. The utterly-demented music on Arizmenda's third full-length lasts for almost an hour (six songs) and the inclusion of lyrics highlights just how depraved and perverted this guy is.
The fact that this was (musically and physically) conceived, recorded, pieced together and released by one person is pretty astonishing.
All in all, 'Stillbirth In The Temple Of Venus' on 2LP was a costly acquisition as it had no European distribution and had to be imported: €50! But it was worth every damn dollar. There were only 250 copies pressed and I believe they are sold out.
I find it astonishing that such great art has such limited appeal. Only 250 people in the world get to own this beast on vinyl. Maybe more will be pressed in future, in the unlikely event of the masses becoming wise and demand for great music increasing.
Evilometer: 666/666