ARIZMENDA – WITHIN THE VACUUM OF INFINITY… 2LP (Androgony Whore)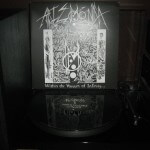 Thanks to the utter inadequacy of Crepúsculo Negro, I thought I'd never get to hear Arizmenda. I purchased both the band's full-lengths on cassette format from the deviant Mexican label but both were unlistenable and about as much use as a kick in the testicles. Actually, at least I'd feel a boot in the nuts…
Anyway, Androgony Whore Records reissued the debut on double-vinyl last Autumn and a copy has finally worked its way into my possession (with a lot of expense and anguish incurred along the way).
Sixty-six minutes long and originally released back in 2009, 'Within The Vacuum Of Infinity…' does not disappoint when it comes to producing insane, chaotic, crazed, out-of-control, recorded-in-a-cellar-with-bounded-abductees-looking-on-in-terror underground Black Metal. It hovers perilously close to the fine line that separates genius from madness. It is very, very close to being shit but somehow wins through as a near work of art.
Definitely not for everyone; but for those of you who appreciate your music rough and ready and swirling and headache-inducing, this is certainly a release worth chasing down. Lyrics included but no gatefold cover, alas.
Evilometer: 555/666