ARMAGEDDA – OND SPIRITISM: DJÆFVVLENS SKALDER ANNO SERPENTI MMIV LP (Nordvis Produktion)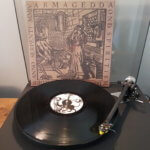 Short-lived but highly significant Swedish Black Metal duo Armagedda treated the freefalling world to three landmark full-lengths in successive years between 2002 and 2004, the best of which was (in my opinion) the hypnotic, trailblazing 'Ond Spiritism: Djæfvvlens Skalder Anno Serpenti MMIV', which sounded like a true breath of fresh / foul air back in the day and still retains all of those wondrous qualities today. Here's an album that has stood the test of time.
It was great to see this gem from the not-so-distant past reissued on black wax just under a year ago, offering those of us who missed the record first two times around another opportunity to pick it up in the format that suits the music best. This edition looks and sounds fantastic and comes in a majestic gatefold jacket; so it represents an excellent purchase quality-wise.
Musically, Armagedda were clearly ahead of their time, most notably on this album, where they introduced some more ambitious passages to their trademark Black Metal sound. Everything here just sounds evil as fuck but the music is also deceptively astute at worming its way into your subconscious. The guitars cut through the cold night air, the garrotte-like bass slices at your neck, the drums (cymbals to the fore oftentimes) deliver the kind of variety that Mgła have since become renowned for and the varied vocals are nasty and malevolent in all their forms. Meanwhile, an exceptional production allows the album to manifest in a manner that one would not readily associate with Black Metal.
The use of the Swedish language also embellishes proceedings greatly. 'Ond Spiritism: Djæfvvlens Skalder Anno Serpenti MMIV' complements the quality with quantity, too, as it lasts for nigh on 50 minutes, two of the undoubted highlights being 'Ændalykt' and the otherworldly, funereal 'Afgrundsvisioner', which clock in at more than 17 minutes between them, not to mention the farcically-enjoyable 'Döden Styr Livet.'
In all probability, this record would stun the underground were it to be released today; it's hard to believe it first emerged 16 years ago. For ambient, grim, evil and authentic Black Metal, expertly executed, it ticks every box you could think of.
Evilometer: 666/666