SULPHURIC NIGHT – ARCANE MONOLITHS OF TRIUMPHANT DEATH 2LP (Altare Productions / Black Gangrene Productions)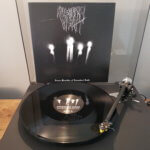 In conspiracy with other high-quality composites such as Void Prayer, Niteris and of course Obskuritatem, Sulphuric Night is part of Bosnia and Herzegovina's treacherous Black Plague Circle, one of the many gatherings of like-minded Black Metal collectives to have raised their ugly heads in nations around the globe, predominantly in Europe.
Sound-wise and perhaps philosophically too, the scene to which the Black Plague Circle is most closely connected is Portugal's uncannily-similarly-titled Black Circle; the artist Sulphuric Night reminds me of most being Black Cilice (incidentally not aligned to the Black Circle, as far as I'm aware).
Anyway, like Black Cilice, Sulphuric Night is a one-man operation, fronted by O., who is also a member of the aforementioned Void Prayer and Niteris amongst other hordes. The music conjured forth is raw, noisy, spectral, ghostly, ghastly Black Metal, screechy and hideous as fuck, barely produced and hammering along in obscure adulation of the night, worshipping death and decay.

'Arcane Monoliths Of Triumphant Death' is a double LP which collates all of the demo material committed to cassette prior to the release of debut full-length 'Forever Cursed'. The nine tracks from 'Rehearsal Demo', 'Endless Night', 'Scorpio Acuelum' and 'Last Wound' – alongside 'A Man Who Had Swallowed Death' from 'Of Infinite Cold Wanderings…', a split with Primogenorum – have been remastered (not much) for this vinyl edition, which is tastefully housed within one of those simple silk-screened fold-over covers, printed on both sides.
All in all, 'Arcane Monoliths Of Triumphant Death' is an excellent release as it provides a welcome opportunity to snap up elusive material that was ultra limited in the first place and released when nobody really gave a damn about Sulphuric Night (as opposed to the handful of mortals who now enjoy the music). The high point of the collection is Side C, featuring the three nightmares that hitherto comprised 'Scorpio Acuelum', of which only 50 units were commissioned by The Throat in 2015. 'I Am The Night' and the title track average nine minutes each of raw black magic, whilst, in between, 'Moon Lore' spellbinds for almost eight minutes.
The rest of the music doesn't quite soar to the same heights, but it's still an interesting and enjoyable listen overall.
Evilometer: 555/666