VORTEX OF END – ARDENS FVROR 2LP (Osmose Productions)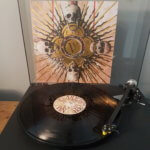 Released last summer, when the world was still full of hope and wonder, Vortex of End's third full-length offering is probably the record(s) I've listened to most often within the past twelve months. I've revisited 'Ardens Fvror' over and over and over again – which can be quite stressful for a serial collector as there's always this nagging feeling that the time might be better spent checking out something new – and it blows me away every time. Without fail.
The majority of the songs dispersed across the 50-minute duration of this album are sensational, stunning seven-minute epics 'Venomovs Triangle' and 'Voraciovs Egregore' – imbued with aggression, dynamism and no end of atmosphere – immediately planting the bar high enough to afflict the listener with vertigo, after creepy instrumental-with-chanting, almost tribal opener 'BFTIVV' ominously sets the tone.
Vortex of End's ability to seamlessly transition from all out aggression to lush ambient passages and sometimes even sections combining both mood sets – similar to the mesmeric magic found on Svartidauði's astonishing debut 'Flesh Cathedral' – is the rarest of innate skills, marking the Parisian quartet out as a special act crafting special music.
Throughout 'Ardens Fvror', we are treated to organic, abrasive but somehow soothing / triumphant dark art, wonderfully written and tastefully executed. A huge production – by Black Metal standards – lets everything shine through perfectly, powerfully, bringing clarity, like a boot to the throat.
Two of the eight songs venture past the eight-minute mark – 'Ira Dei' and 'Satvrnian Ascension', the latter a pure ritual cleansing, closing the album out in the most intensely sublime of manners. The double vinyl edition is superb, although I'm not a fan of Side D etchings and was also disappointed that the lyrics weren't included. Minor gripes, admittedly, but I'd prefer to have had the music spread over all four sides and to have been given access to a lyric sheet…
Last year, I was fortunate enough to see these guys in the flesh twice, in Brussels and Leiden, and they are (were?) just as amazing in the live arena as on record. Whatever the future holds for humanity, Vortex of End will do well to better this undoubted masterpiece.
Evilometer: 666/666