ASH BORER – BLOODLANDS EP (Gilead Media / Psychic Violence)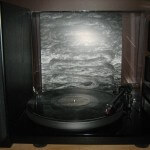 The only downside of Ash Borer (and I'm splitting hairs here, as this is a logistical shortcoming that's completely out of the band's hands, I guess) is that their records have no European release which, for me, makes them both difficult and (more importantly) relatively expensive to acquire. It's always worth the effort, though. Everything this band has put its name to so far has been amazing and 'Bloodlands' is no exception.
For a so-called EP, this is exceedingly generous length-wise. At almost 35 minutes, 'Bloodlands' is actually longer than many Black Metal albums being released these days and I would classify it as an MLP at least. A great record with one epic, stellar track on each side and a download code included for those who want to legally acquire a digital copy. Super stuff, as usual, from the  Californians.
Evilometer: 666/666