ASH BORER – COLD OF AGES 2LP (Pesanta Urfolk)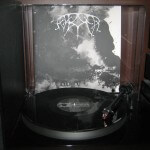 I had a friend once who loved football but didn't have a favourite team. At first, I thought this was unusual. How could you not support a particular team? Surely this would dilute your love for the game? The more I thought about it, the more I realised that he was right not to pledge his allegiance to anybody. When you nail your colours to one mast, then you become blinded by bias and are unable to appreciate fully the brilliance of players on other teams.
What has this got to do with Ash Borer? I hear you ask. Well, nothing, really. But I just realised this morning that I don't have a favourite Black Metal band. If I was asked who my favourite artists are, I would struggle to name three or four off the top of my head. Not sure why that is. Suppose you have to keep your options open. If, however, I did happen to have a favourite band, then Ash Borer would be close – very, very close – to top of the pile.
"Cold Of Ages" is an astonishing full-length that clocks in over the hour mark and really comes into its own in this double-LP format, with each of the four songs afforded its own platform. Musically, this album is pretty much perfect in terms of tone, balance, dynamic, composition and execution. What more can I say? – a truly incredible band and an essential release.
Evilometer: 666/666