AUM – OM AH HUM VAJRA GURU PADMA SIDDHI HUM LP (Iron Bonehead Productions)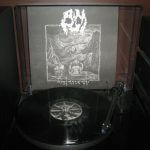 I'd never heard tell of AUM until a few weeks ago but checked out a few songs on the IBP Bandcamp page as soon as the record appeared in their webstore as real live inventory and quickly deduced that 'Om Ah Hum Vajra Guru Padma Siddhi Hum' was a mandatory purchase.
Kind of like a mutated offspring of Necros Christos and Altarage, this exceptional album delivers 41 minutes of stellar, atmospheric Death Metal, performed with militaristic precision and imbued with an ominous, dark spirit that's embellished greatly by the seamless gear changes and mood transitions, including some fleeting exotic ambient moments.
All in all, this is utterly superb and the presentation is as professional and appealing as we've come to expect from IBP.
Evilometer: 666/666