NECROS CHRISTOS – NINE GRAVES LP (Sepulchral Voice Records / Ván Records)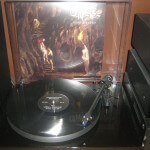 Amazingly, Necros Christos only consider 'Nine Graves' to be an EP. Yet, at 40 minutes, it is longer than most full-lengths coming out of the increasingly-stingy Black / Death Metal underground these days. I'm fucking sick of being short-changed so it's refreshing to come across a release that offers value for money (which, in fairness, should be a requisite).
Considering that their two actual full-length albums, 'Triune Impurity Rites' and 'Doom Of The Occult' clock in at an hour and 73 minutes respectively, Necros Christos' generosity on here should surprise nobody.
There are only four songs proper on the record (lyric sheet and poster included) and the rest of the release comprises NC's trademark 'Temples' and 'Gates'. Altogether, it flows as another great piece of work from one of my all-time favourite acts.
A stunning triumph for both quality and quantity.
Evilometer: 666/666