MORDAVIA – MORTAL (self-released)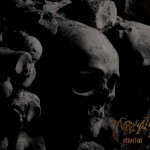 Out of Melbourne, Australia comes this obscure one-man project fronted by an entity who has rather cheerfully chosen to call himself Morgue. Morgue may (or may not!) be better known for his duties in Mar Mortuum. Due to other engagements in the antipodean underground, it took him a long time to get around to recording and releasing this album, but it is amongst us now and is a commendable effort.
Comprising 44 minutes of sombre, bleak, morbid and reasonably melodic Black Metal, 'Mortal' proves that you don't need the backing of a label – big or small – to conjure good music. Better without, perhaps… If the muse is within you and the requisite passion, vision and enthusiasm are intact, then anything is possible. As DIY efforts go, this album really is pretty damn impressive and it's one that you won't regret seeking out.
Seeing as there's a glut of great Black and Death Metal coming out of Australia these days, it's hardly a surprise that 'Mortal' hits the spot.
Evilometer: 555/666