AZELISASSATH – EVIL MANIFESTATIONS AGAINST MANKIND LP (Darker Than Black Records)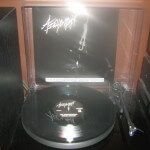 Some albums arrive like a bolt from the fucking blue. Without neither warning, fanfare nor hype; like a bad dream. As do some reviews, I guess. Azelisassath's second full-length 'Evil Manifestations Against Mankind' is one such record – a sudden, unprovoked proclamation of raw, grim and glorious depravity. A welcome kick in the balls.
What I know about this Swedish duo I could write on the back of a postage stamp – and still leave enough space for a few choice recipes. Obscure and flying so far off the radar that they'd put Malaysia Airlines to shame, Azelisassath crank out eight prime cuts of magnificent underground Black Metal in around 35 minutes.
It's a joyous ride and one you ought to take.
Evilometer: 666/666