SARGEIST – FEEDING THE CRAWLING SHADOWS LP (World Terror Committee)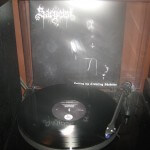 Despite not quite falling in love with 'Let The Devil In', I never lost faith in Sargeist and that faith has been rewarded with an astonishing fifth full-length in the form of 'Feeding The Crawling Shadows'. Everything about this record reeks of class – most especially, and most importantly, the ten great songs of offer.
Interesting, dark and entertaining lyrics are printed on the inside of the sumptuous gatefold cover and I truly love the artwork, especially the cover pic and the superb image on 'Page Two' of the sleeve. The tracks themselves are superb, decadent, with the dual vocal delivery of growls and shrieks working an absolute treat.
Everything is extremely lo-fi and dull (much more underground than I expected and a clear step back from the comparative accessibility of its predecessor, at least how I remember it, especially the title track) and this record as a whole is a resounding success. A slow burner, though, which takes time to weave its dungeon-born magic.
Evilometer: 666/666