AZRAEL RISING – ANTI-GRAVITY LP (Primitive Reaction)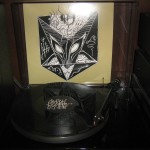 For the most part, 'Anti-Gravity' – the debut full-length from Finnish duo Azrael Rising – is a very enjoyable listen. However, this is also at times distinctly run-of-the-mill, by-the-numbers fare. While there are some subtle variations in the nine songs presented, by and large the record as a whole is somewhat more bland than I was expecting. Especially the first side.
That the colour theme, fonts and layout of the record are markedly different than what you might associate with your traditional Black Metal album suggests that Azrael Rising have aspirations towards being more than they actually are. But, alas, these goals are never quite achieved and I suspect that the band possibly bottled it a little in that they didn't quite have the courage to back up all of their convictions. (Not that I would encourage anyone to be overly experimental…)
A lot of thought has gone into the lyrics (which are included on the insert) and I must admit they brought a smile to my face on more than one occasion. These boys can be crude. But poetic with it. The vocals are raspy and thrashy – almost like Kreator or Sadus – and the LP truly comes into its own on the second song on Side B – the exceptional 'God In His Blue Temple', which is both the longest and boldest offering. And – tellingly – also the most restrained.
I would have loved a whole album of similar songs because Azrael Rising are at their best when delivering non-conventional, slow-to-mid-paced madness. But, for whatever reason, there is too much mundane and uninspiring stuff slotted into the opening half of the album. Too many of those early songs sound like filler.
All in all, this is still a solid effort with some nice touches – vaguely reminiscent of Bloodline – but far from outstanding, to be fair.
Evilometer: 444/666