TUKAARIA – RAW TO THE RAPINE LP (Fallen Empire Records)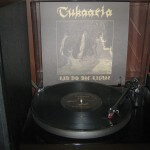 This label's been busy recently sneaking out some superb underground Black Metal of a distinctly analogue nature; it's impossible not to be impressed by the exceedingly high quality of their releases. The LPs from Xothist and Lluvia are both fantastic (see my reviews below…) and Tukaaria's debut full-length 'Raw To The Rapine' (initially released on tape in 2011) is equally impressive.
You may remember I loved the split record with Odz Manouk, so I knew going in that this LP had the potential to be a stunning affair. And (musically, at least) it doesn't disappoint. However, it is perhaps a let-down in terms of length (or lack thereof) … 27 minutes really is very, very short for an album.
Some of you may therefore be more interested in tracking down the considerably-longer CD version released by Profound Lore, which also includes the tracks from the splits with Odz Manouk and Volahn.
However, if – like me – you are a vinyl fiend, then you will no doubt crave this edition. Even though it's frustratingly short, 'Raw To The Rapine' is nonetheless an undisputed triumph for quality over quantity. Twenty-seven minutes of near-perfect, fizzing, buzzing, corrosive, obscure and mystical raw Black Metal with spades of attitude and integrity is still miles better than most purchases you could make. A few more songs and this would be utterly essential.
Evilometer: 555/666