BALMOG – VACVVM LP (BlackSeed Productions)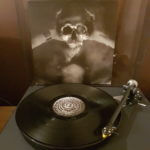 'Svmma Fide' was an immense record and I'm amazed that I didn't review it. In fact, I'm convinced I did but it's not here on the site (anymore) so I must be losing my marbles.
Anyhow, Balmog returned early this year with their third full-length, 'Vacvvm', and the criminally-underrated Spanish, Sinmara-sounding wrecking ball just keeps on getting better.
There are eight songs on this album with a 40-minute duration. The music soars confidently and throbs with intent, vertebrated by sensational stickwork (in true Iberian fashion), embellished by ambient flourishes.
I enjoy how the vehicles of expression shift seamlessly from the background to the forefront, the sheer dynamism of a potent and genuinely spectacular, wondrous slab of Black Metal.
Stock clichés like occult and esoteric and mystical and ritualistic could be used freely here. Or fucking great. The world is on fire.
Evilometer: 666/666