ADVERSARIAL / PAROXSIHZEM – WARPIT OF COILING ATROCITIES LP (Iron Bonehead Productions)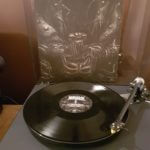 In a pitiful era of fad-following, hype-deepthroating dickheads there is simply no accounting for taste. Iron Bonehead released this short but spectacular split on vinyl format in January (the CD having emerged via Vault Of Dried Bones four years ago) and it is still widely available for a mere pittance while the lemmings get their needy knickers all twisted and stained over the latest strictly limited record that virtually everybody missed and probably isn't that good anyhow and even if it is we will never fucking know.
Between them, Canadian cousins Adversarial and Paroxsihzem deliver 30 minutes or so of utterly stupendous Black / Death Metal on 'Warpit Of Coiling Atrocities' and it's a release that I cannot recommend highly enough. If the usual suspects blighting the underground with their dubious presence were limiting and toying with access to music of this quality, then we really would have something to be crying about.
Evilometer: 666/666