BEHEXEN – RITUALE SATANUM LP (Debemur Morti Productions)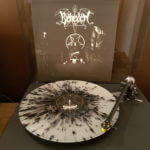 Considering the sheer volume of benign, inoffensive, non-belligerent and downright good-natured and / or commercially-orientated Black Metal floating around the sewers of existence these days, it's remarkable to listen back in hindsight and remember how tremendously pugnacious and glorious Behexen's debut full-length, 'Rituale Satanum', was / is.
The songs are outstanding, the lyrics divine, and the album still reeks of pure degenerated evil all these years later. Whether you are revisiting it or discovering it for the first time, this edition does worthy justice to an execrable collection of blasphemous invocations from a cursed ensemble that has consistently delivered Satanic Black Metal of the very highest calibre.
Evilometer: 666/666