HYRGAL – SERPENTINE LP (Les Acteurs de l'Ombre Productions)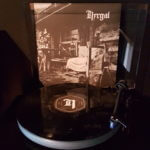 Hyrgal's debut full-length, 'Serpentine', storms through the speakers impressively, for the most part, like an autumnal deluge, but is badly let down by the ill-advised, posturing, eight-minute closing track, 'Etrusca Disciplina', which opens with an unbearable segment of vomit-inducing post-rock wankery.
All in all, this was a decent enough dose of atmospheric, clean, desolate Black Metal until that late deal-breaking revelation, elevated by two superb instrumentals. Accomplished for sure but I'm not particularly moved by it and that last song is utter shite.
Evilometer: 222/666