SHAMBLES – PRIMITIVE DEATH TRANCE MLP (Blood Harvest)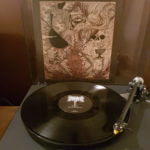 Although Shambles from Thailand of all places have been making music for 20 years, 'Primitive Death Trance' is the first time they've registered on my radar, the long-overdue discovery down to the fact that Blood Harvest decided to release this excellent 25-minute, four-track EP on vinyl.
Apparently the band used to play Gore and Brutal Death Metal and some Black Metal and Grind too but the sound on 'Primitive Death Trance' is purely Death / Doom, similar in many respects to Anatomia and Coffins. How's that for a lazy bit of pigeon-holing?
The record spins best at 33rpm (even though it's erroneously marked as 45rpm on the centre label) and comes with an insert, including lyrics. Super stuff musically, especially the title track. There is an annoying glitch on my copy evident in irritating detail at the start of both sides, but I suppose it doesn't diminish my enjoyment of the music thereon (too much). Okay, it drives me nuts.
Evilometer: 666/666