BILSKIRNIR – WOTAN REDIVIVUS LP (Darker Than Black Records)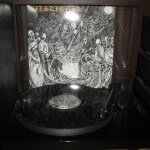 My long-suffering regular reader (hey, Phil!) will no doubt have detected a (welcome?) slowdown in activity in recent weeks and months. This is my first post in twelve days. When time is limited and releases increasingly homogeneous, inspiration to generate thoughts and then put words to said thoughts can be hard to unearth. Thus, I have little to say these days.
This record is okay but it is hardly essential. Average, melodic Black Metal is on the menu. Nothing more. And it is very melodic. Some people find NSBM offensive; it certainly can be when there is so much melody involved…
Nice presentation with poster and inlay (including lyrics), but really 'Wotan Redivivus' is about as menacing and / or dangerous as Woods of Desolation or The Cult. Hardly Black Metal at all ('Blood And Spirit' sounds like Manic Street Preachers with a sore throat (so does the comatose 'As This World Ends')) and therefore a big disappointment.
Evilometer: 222/666