VILKACIS – THE FEVER OF WAR EP (Dead Section Records)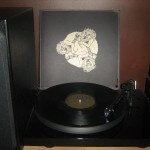 This is a 12" edition of the 33-minute long Vilkacis debut EP originally released by Psychic Violence Records on cassette last year, Vilkacis being the one-man vehicle of Fell Voices drummer / vocalist Michael Rekeviks (so I had a fair idea what to expect here). Musically, there are no real surprises.
It's like a stripped down, more minimal version of FV (doh!); very simplistic, quite repetitive, reasonably enjoyable.
Out of curiosity alone, this was worth buying and it is well worth owning as a collectible item. It's not amazing, but 'The Fever Of War' is still pretty damn good. An okay purchase but hardly an essential one.
I'm not sure any more about these cheap-looking, flimsy single-sheet (card) gatefold jackets popularised by the underground, either. It's not a proper record sleeve but consumers are still asked to pay proper prices. Feels and looks cheap (especially when the back cover is printed on sideways). Also, apparently all copies come with a free digital download. Except mine, obviously…
Evilometer: 444/666