BLACK ALTAR / KIRKEBRANN – DEUS INVERSUS (Odium Records)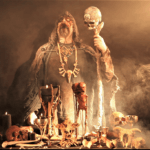 Fighting the bad fight for over two decades, Black Altar tend to fly under the hype radar and are certainly one of Black Metal's most underappreciated acts, having delivered a lengthy list of exceptional recordings, including fantastic full-lengths in 2004 and 2008, titled 'Black Altar' and 'Death Fanaticism' respectively. Since then, Shadow and his acolytes have focussed on splits, 'Deus Inversus' being the third of those to surface inside eight years, following on from the three-way collaboration with Thornspawn and Varathron ('Emissaries Of The Darkened Call – Three Nails In The Coffin Of Humanity') and the 2017 split with Beastcraft ('Winds Ov Decay / Occult Ceremonial Rites').
Previously-unknown-to-me Kirkebrann from Norway provide the counterpoint to the Polish stalwarts on 'Deus Inversus', which features two tracks and an outro from Black Altar, then three plus an instrumental from Kirkebrann. Everything is done and dusted in just over half an hour, so neither horde could stand accused of overstaying their welcome. True to form, both Black Altar offerings represent superb, straightforward Black Metal, a meeting place of old school and second wave, with wonderful craftsmanship on display amid scorching, high-tempo riffs, energetic drumming and those trademark howls of death. The outro is fittingly ominous and haunting and left me longing for more Black Altar.

Instead,  we get some rather melodic, quirky and quite unusual / unique Black Metal, sometimes with a rocking, punky vibe, from Kirkebrann, who seem to have been influenced by Gorgoroth, Mayhem and maybe Carpathian Forest. In fact, you could probably stick any Norwegian Black Metal band from the influential early-mid-'90s in there. Kirkebrann's music does have an identity of its own, however, and their third track here, 'Et Nederlag', is excellent, although I'm not so sure about the instrumental at the end, 'Ufødte Klarhet', which seems wholly superfluous.
Evilometer: 444/666