BLACK CILICE – OLD CURSES 2LP (Dead Section Records)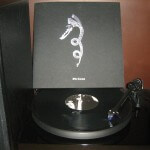 Collating all of Black Cilice's painfully-limited demo releases onto two slabs of black wax, 'Old Curses' delivers a staggering 21 tracks of incredibly difficult-to-absorb underground Black Metal. From start to finish, an almighty racket pervades this double-vinyl offering, which showcases the Portuguese entity in an even rawer and more Satanic state than the already-fuck-off full-lengths 'A Corpse, A Temple' and 'Summoning The Night'.
At the end of the day, these are essentially only demo cuts (which were limited for a reason in the first instance) and, as such, they are rougher than an Armenian scrotum. Noisy fucks. So the question is: are you a hopeless vinyl addict like me who has to have everything limited and unconventional? Are you consumed by the dread of not owning certain records?
Sometimes I believe the fear of missing out motivates me more than the joy of joining in. I needed this and am quite happy to own a copy but I am all too aware that it is probably nothing particularly special as a stand-alone item. However, for indiscriminate, obsessive completists, 'Old Curses' is magical gold dust. Could be one of those instances where owning a record is more important than listening to it…
Evilometer: 444/666