BLACKDEATH – ALSO SPRACH DAS CHAOS LP (End All Life Productions)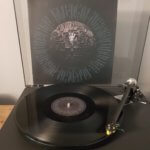 Astoundingly, tenth full-length 'Also Sprach Das Chaos' showcases Blackdeath sounding as fresh and essential as they have at any time during their 23 years of unswerving dedication to the Black Metal underground. It no doubt requires immense reserves of determination, stubbornness and passion to persevere against the odds, pissing into the wind, for as long as Blackdeath have, but from their tireless devotion and vision comes a fascinating discography of fantastic, inimitable black art, this latest release certainly one of the most accomplished.
Clocking in at 34 minutes, 'Also Sprach Das Chaos' comprises two lengthy, immersive offerings – 'Paralysiertes Äquinoktium / Мир рухнул' on Side A and the almost-20-minute 'Im Labyrinth' on Side B. The former is perhaps the strongest but both tracks are worthy and offer rich replay value. As the slash suggests, the first song is divided into two parts. The organic manner in which the guitars, bass, drums and vocals play off one another on the busy and bewitching 'Paralysiertes Äquinoktium' is quite breath-taking, while the supreme choral tapestry that is 'Мир рухнул' – featuring contagious harmonic chanting from all three members – succeeds in creating a lasting impression. Truly stunning stuff.
Anyone who has stumbled across Colonel Para Bellum's superb reviews and interviews will be aware of the bottomless depth of his enthusiasm for Black Metal and, listening to 'Also Sprach Das Chaos', it would appear that this appetite is shared by co-conspirators Abysslooker and Polar Maya. Between the three of them, they have crafted a recording that is bursting at the seams with inspiration, inclination and assurance. As intimated earlier, it is quite an accomplishment for a band that has been active so long to create music this inspired and original.
There is a wicked madness running through the album, a twisted mania leading to a feeling that proceedings could come unhinged at any moment. Barely controlled chaos. 'Also Sprach Das Chaos' is brilliantly composed and executed, with notable performances from all three members. To complete a wonderful package, the vinyl includes a four-page booklet and is housed in a glorious gatefold jacket, containing a particularly classy band photo on the inside.
Evilometer: 666/666