DIABOLI – AWAKENING OF NORDIC STORM LP (Northern Heritage Records)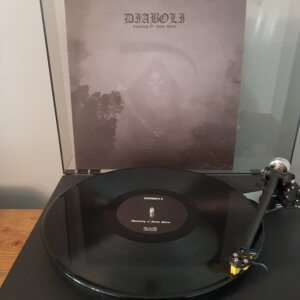 Denouncing and deriding "fairytales from the desert infecting Europe", 'The End Of Abrahamic Lies' sets the tone for 'Awakening Of Nordic Storm' – the suitably-uncompromising eighth full-length display of disgust from Diaboli. Sole member Petri Ilvespakka has delivered another vitriolic volley aimed at the heart of his crooked enemies and the album is a breath of fresh air in a time when Black Metal in general (whatever that means) has become embarrassingly safe and sanitised.
Diaboli appears to have gone back to its roots somewhat when this latest offering is compared to the equally-excellent predecessor from six years hitherto, 'Wiking Division', as 'Awakening Of Nordic Storm' is unapologetically primitive and uncouth. But at the same time, the record is infused with the glorious spirit of traditional Black Metal and tracks like 'The Age Of Revisionism' and 'Eternal Return Of The Sun Wheel' are particularly infectious, complete with interesting, hate-filled lyrics and grim, bitter Black Metal quite closely aligned with Clandestine Blaze.
Two of the eight tracks are performed in the Finnish language and the record closes with an ominous six-minute instrumental, 'Ancient Gods Walk The Earth'. No real surprises to be found on 'Awakening Of Nordic Storm' (apart, perhaps, from how often I am reminded of Darkthrone) as Diaboli does what Diaboli does: hammers out 36 minutes of no-frills, adversarial Finnish Black Metal, at times punk-ish or rocking and always busting with contempt for Abrahamic religion.
The LP version includes an insert with the lyrics printed thereon, which are always worth a read or two. In some respects, the fact that this music offends all the right people makes it all the more enjoyable. Although, having said that, who gives a fuck about the precious majority?
Evilometer: 666/666