BLOOD RED FOG / COSMIC CHURCH – BLOOD RED FOG / COSMIC CHURCH 2LP (Deviant Records)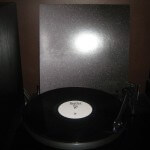 The CD edition of this split from four years hitherto featured three long songs from BRF and one 21-minute epic from CC. All of those resurface on the rather sumptuous double-vinyl issue but with four extra tracks thrown in for good measure – two from each act.
So, really, it's pretty much a full-length offering from each act now.
The two records are housed within a generous gatefold jacket (nice to have plenty of room to slide them in and out!) and each one delivers some fantastic eerie and atmospheric underground Finnish Black Metal.
I suppose this is the very epitome of a no-brainer.
(The celestial light in the centre of the cover is the flash off my fucking camera, by the way.)
Evilometer: 666/666