INFERNAL WAR – AXIOM LP (Agonia Records)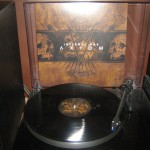 Is this album derivative? Yes. Have we heard it all before? Hell, yes. Does it bring anything remotely new to the table? No, sir. Will I be listening to it at least once a week for the rest of my shallow and pointless life? Fuck, no.
'Axiom' is high-paced, frenetic, face-ripping, unfrilled, Polish Black Metal smashed forth through the speakers with venom and intent. Eleven songs that swirl together into one another amid a disorientating maelstrom of absolute samesoundingness.
It's Black Metal, pure and simple. Very good Black Metal (if, perhaps a little too cleanly-produced). No dumb female vocals included on this one, fuckers. Comes in a gatefold jacket, with a huge booklet.
Evilometer: 555/666