MÚSPELLZHEIMR – HYLDEST TIL TROLDDOMMENS FLAMME LP (Mysticism Productions)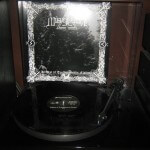 There's not much to say about Múspellzheimr's debut full-length, 'Hyldest Til Trolddommens Flamme', apart from the fact that it is utterly superb. It's always worth taking a chance on records released by this label because there is a very good chance you'll end up with an exceptionally high-quality, obscure Black Metal album.
As is the case here. End.
Evilometer: 666/666