BLOODLINE – HATE PROCESSION LP (Blut & Eisen Productions)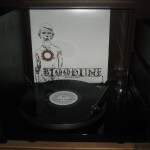 'Hate Procession' initially saw the cold light of day six years after the amazing 'Werewolf Training' (in 2009, to be less cryptic) and is equally impressive. Blut & Eisen gave both Bloodline albums the vinyl treatment earlier this year and I snapped them up as quickly as finances would permit – because these are simply too good not to own.
One thing that I truly love about Bloodline is that they didn't take the safe option of rehashing the debut album; with the follow-up, they made a full-length that is different in many ways (though the trademark, killer samples are still in place) … yet equally as beguiling. This record is less primitive and slightly more sophisticated than its predecessor, I believe. It's also bigger and bolder and less tongue-in-cheek. It really is a fantastic listening experience.
There are essentially just four fabulous long songs – 'The Great Becoming', 'Order Of The Parasite', 'Day Of The Vulture' and 'Jerusalem Addio' – but we also get four ambient / instrumental pieces – including a bonus – which bring the running time up to in excess of 50 minutes. The packaging and presentation of the vinyl is superb and Bloodline is one of those rare bands whose lyrics I actually enjoy.
Evilometer: 555/666