CLANDESTINE BLAZE – NEW GOLGOTHA RISING LP (Northern Heritage Records)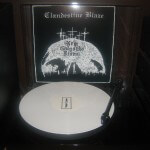 Clandestine Blaze has unleashed another belter with eighth full-length, 'New Golgotha Rising' – 39 more minutes of superb Finnish dark art courtesy of Black Metal legend Mikko Aspa. He probably won't thank me for using that term but Mikko is a pure fucking legend and his work under the CB banner is arguably his best.
The seven odes to annihilation on this record are of the very highest calibre, reaffirming Clandestine Blaze's status as one of the most consistently-brilliant one-man BM acts in the universe. It's hard to imagine anyone with even a passing interest in Black Metal not appreciating this album for what it is – a straightforward blast of eradication laced with hatred and indifference.
The white vinyl sucks but everything else about this is monstrous.
Evilometer: 666/666