NORMAN SHORES – LE TOMBEAU DE BRUME (Ossuaire Records)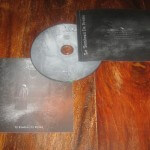 The incredibly-prolific Fog from Normandy, France has (at least) three one-man Black Metal bands going on simultaneously at present – Weltering In Blood, Ulfberht and Norman Shores – and incredibly all three have unleashed new full-lengths this year, all on Ossuaire Records, which I think is also his own label.
'Le Tombeau De Brume' is Norman Shores' second album and it delivers 57 minutes of superb Black Metal, harsh yet reasonably melodic, soaring, with just the right balance between catchiness and in-your-faceness. Considering how prolific this guy is, it is really quite amazing how accomplished an offering he has produced.
Only costs €9 direct from the label. Check it out – you will hardly be disappointed.
Evilometer: 555/666