CULTES DES GHOULES – HÄXAN 2LP (Of Crawling Shadows)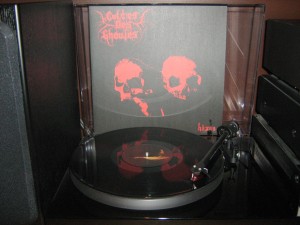 I'm doing this a lot lately – buying vinyl reissues of older albums that I already own on CD. Taake, Leviathan, Vasaeleth, this… I think it might prove either that I am slightly mad or that I am complete fucking insane. Either way, 'Häxan' is Cultes Des Ghoules' debut full-length from 2008 and a worthy predecessor to their stunning 2013 follow-up 'Henbane'.
This older offering is more understated and less melodramatic than 'Henbane' and the five songs (55 minutes…) deliver a near-perfect strain of occult Black Metal with arcane witchcraft-ian themes and vibes. Comes with a lovely eight-page A5 booklet including lyrics and appropriate artwork.
Evilometer: 555/666