BLUT AUS NORD – WHAT ONCE WAS … LIBER III EP (Debemur Morti Productions)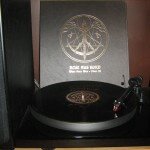 I wasn't going to bother my buttocks writing a review of this 45rpm MLP as the inherent quality of Blut Aus Nord's releases goes without saying at this stage. A given. I mean, I doubt if there is anyone reading this who has yet to discover the irresistible force of this ground-breaking French act.
However, upon calm reflection and having given 'What Once Was​.​.​. Liber III' more than its fair share of spins on the deck of doom, I decided I should at least acknowledge its existence with a brief observation.
As ever with Debemur Morti, the artwork, presentation and attention to detail are second to none and the heavy duty gatefold cover is a joy to (be)hold. The music itself is prime Blut Aus Nord; twisting and swirling, semi-industrial-ish, concrete-scraping, urban Black Metal terror with an ominous, eerie vibe and just the right mix of melody and menace. Like Godflesh on LSD…
As the disconcerting closing strains of the portentous sixth and final track, 'VI', wash over your ears, you will no doubt concur that here resides yet another essential emission from the DMP / BAN partnership in grime.
Evilometer: 666/666