MALÉFICES – POVR LE SANGS / RITES CRVELS 2LP (Deathangle Absolution Records)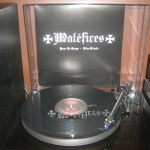 Where Maléfices is concerned, there is plenty of substance to back up the hype. 'Povr Le Sangs / Rites Crvels' is Serpenoire's first venture into vinyl territory, collating the first two demos named either side of the slash. My legion of long-time readers might remember that I was mightily impressed by the previously-reviewed 'Povr Le Sangs' cassette; naturally, it sounds way better on 12" wax.
'Rites Crvels' is every bit as amazing and together – clocking in at north of 62 minutes – both demos make for a really fabulous double LP. While the flimsy, one-sheet front cover is bland, each record has its own sub-sleeve and, all in all, this is a great release.
Unfortunately – here comes the rub! – as far as I'm aware, this was painfully limited when issued late last year and could prove extremely difficult to track down unless you want to pay way over the odds to some complete cunt.
Evilometer: 666/666