DEVOURING STAR – THROUGH LUNG AND HEART LP (Daemon Worship Productions)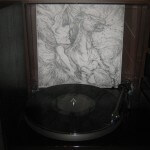 Dissonance is very much the name of the Devouring Star game. And it would definitely be an oversight to review this record without mentioning Deathspell Omega, whose influence is blatantly obvious on the five anti-tunes presented on this debut full-length; suffice to say, the sound honed here was largely pioneered elsewhere.
Having said that, 'Through Lung And Heart' is still a fabulous album – a heady brew of dissonant black and subterranean death that smashes through the speakers but leaves just enough breathing space to keep things bearable and interesting throughout. A tough journey but not quite overwhelming.
Comes with a classy gatefold jacket, including printed lyrics. Nice.
Evilometer: 555/666