NIGHTBRINGER – EGO DOMINUS TUUS 2LP (Daemon Worship Productions)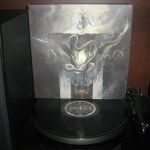 Wow!: seventy-two minutes of prime esoteric Black Metal spread across two slabs of black wax encased in a spectacular, heavy-duty gatefold jacket which also houses a huge booklet / tome with occult lyrics and beautiful artwork included to complete a stunning package / product.
It was an almost unbearably lengthy wait for Nightbringer's fourth full-length to materialise on vinyl and, alas, this double-LP is also fairly expensive to purchase. But the downsides begin and end there…
Whomsoeverthefuck said that the best things in life are free deserves a firm, unrestrained knee to the bollocks – with ample follow-through. You have to pay for good stuff and I don't require a degree in economics to reach this conclusion.
All you need to know about the sprawling and expansive 'Ego Dominus Tuus' is that it is utterly amazing; an exhibition of fierce, grandiose, labyrinthine, symphonic, perfectly-produced-yet-still-raw-and-aggressive Black Metal reminiscent in many ways of Emperor at their absolute peak or like a BM cousin of Nile. It's also a very difficult record to fully digest.
But I will leave the hyperbole and needless thesis-writing to others. A handful of adjectives is more than enough! I prefer listening to Nightbringer than writing about them. Although I have written about them quite a few times, it would appear. What are you waiting for?
Evilometer: 666/666