DIGERDÖDEN – GENOM DÖDENS SVARTA TÖRST LP (New Era Productions)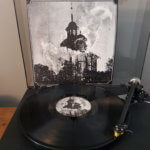 Another creation conjured from the mind of the inimitable Swartadauthuz, Digerdöden (translated as black death) specialises in swirling, cascading atmospheric Black Metal, similar enough to Bekëth Nexëhmü but with a much more varied vocal approach. 'Genom Dödens Svarta Törst' is the third full-length to surface under the Digerdöden moniker and this majestic 46-minute album is a perfect example of atmospheric Black Metal done right.
It's quite a dynamic affair and a lot of this is down to the sparing use of some fierce growls and howls to supplement the more-typical Black Metal shrieks and rasps. Unsurprisingly considering the individual behind the music, 'Genom Dödens Svarta Törst' is immaculately composed and executed, whilst the demon himself also did a fine job with the mixing and mastering. The infectious 'Lifvets förkastade likstank, efvigt följa i lönndom' demonstrates the talent and mastery of an inspired artist at the top of his game, but in truth all six tracks are of the highest quality.
The lyrics are in Swedish so I'm not sure what exactly they are saying but the song titles translated suggest that we're dealing predominantly with uplifting matters such as death, decay, graves and rotting corpses. The sonic incarnation of black death… I'm sure the cloven-hooved one himself makes a fleeting cameo appearance towards the end of the superb ten-minute maelstrom that is 'Skymf af lifvets bägare… Under gravlyktans dödssken'.
Like a graveyard under cover of darkness, the atmosphere is both ghastly and alluring, the beautiful stench of rot hanging in the air as ethereal presences lurk in the shadows. It's really excellent, somewhat harrowing music and the vinyl edition looks and sounds fantastic, with a nice insert included.
Evilometer: 666/666