DODSFERD – A BREED OF PARASITES LP (Funeral Industries)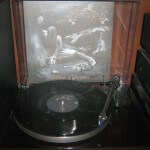 'A Breed Of Parasites' is my favourites Dodsferd album, even though it is exceptionally fleeting for a full-length, clocking in at barely past the half-hour mark. As nine minutes of that are taken up by a (brilliant) cover of Judas Iscariot's 'Eternal Bliss… Eternal Death', only 23 minutes of original material are offered (and a couple of minutes of this is just a glorified hum at the end!).
Despite the flagrant short-changing, I was nonetheless pleased when Funeral Industries announced with little fuss or fanfare that there would be a vinyl edition and duly handed over the cash.
The record is housed well in a nice gatefold jacket and the music on board is superb. There's lots of variation; an abundance of anguish but also some nice melodies and soaring uplifting parts. Mostly slow- to mid-paced.
All in all, this is a fantastic acquisition; just a pity the Greek grouches' muse sold them short when they were composing / preparing a so-called full-length that is in actual fact shorter than some MLPs. I mean, a few of their previous albums were approximately twice as long as this one. 'A Breed Of Parasites' is still wonderful, though.
Evilometer: 555/666