HETROERTZEN – AIN SOPH AUR 2LP (Lamech Records / Terratur Possessions)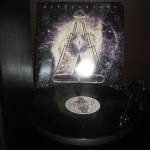 The double-vinyl edition of Hetroertzen's expansive fifth full-length is massive in every way. Visually stunning, the records are contained within a sumptuous gatefold jacket that essentially doubles up as a hardback book. You see, a beautiful booklet is stapled inside with some great artwork, lyrics and insight from the band included.
Musically, 'Ain Soph Aur' is also huge. Big, brash and bold occult Black Metal, the album runs for over an hour and is blessed with magnificent musicianship and excellent compositions, all brought sharply into the foreground by a clean production job. Continuing on from the stellar collaboration that was 'Capax Infiniti', Kark from Dødsengel provides the voice on 'Endless Light'.
The second record of the pair is particularly strong, especially the two eight-minute-plus hymns 'The Luminous One' and 'Piercing The Veil' that close Sides C and D, and overall it is impossible not to admire the dedication and discipline that has gone into creating an album (and product) of this scope.
And remember, this has been spawned from within the Black Metal underground. I wonder do mainstream artists or labels ever produce records or releases that look, feel and sound as impressive / professional as this one…
Considering what has been achieved here, it is arguably churlish of me to state that – from a personal perspective – a  large quota of overly-theatrical vocals mar what would otherwise be a near-perfect album. They're not clean vocals, per se (I'm giving Hetroertzen the benefit of the doubt and sparing them the swinging axe…), but they are unreasonably operatic, outlandish and sung. And annoying.
Evilometer: 555/666