DRAKONHAIL – LE SENTIER 2LP (ASRAR)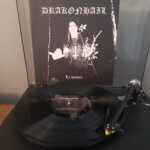 I'm confident that the prolific entity behind Drakonhail couldn't care less whether or not his music is in any way appraised or reviewed anywhere, let alone on the cursed internet, so I'll keep my observations concerning 'Le Sentier' short and to the point. Dunkel has recorded a vast discography of underground Black Metal under a variety of guises over the past two decades, with pretty much all the recordings of Sale Freux, Saatkrähe and Drakonhail worthy of investigation – if you can get your hands on them.
For whatever reason, these are not the easiest releases to secure in physical formats. 'Le Sentier' is a demo that was recorded in 2011 and recently put to vinyl in all its original analogue, raw, depraved, lo-fi glory. No special mastering or mixing here. What you get is a cassette-quality self-recording in the true spirit of the most ancient Black Metal. The sound is shaky and quivery but the charm and elegance of the music is beyond question.
There are eight songs in total on the double vinyl edition, comprising almost 94 minutes, so it's a substantial offering of underground Black Metal as well as an intriguing one. The majority of the undulating odes to nature and nihilism are around the ten-minute mark, with the haunting, nocturnal title track itself much longer, coming in at almost 28 minutes in duration.
On one hand, as the damp, dull, murky and muted sound isn't exactly user friendly, it can be a tall order to set aside the time to invest in repeat listens. However, the flip of this is that the dark spirit present on 'Le Sentier' is strong and this recording is a nice representation of what single-minded underground Black Metal can be. Thus, despite its limitations (which are definitely a strength as much as a weakness), this is much better than most of the shiny-sounding modern Black Metal being churned out with neither soul nor feeling these days.
Evilometer: 666/666