DROWNING THE LIGHT / VAMPYRIC BLOOD – DROWNING IN THE VAMPYRIC SACRAMENT OF THE IMMORTALS LP (Darker Than Black Records / Dark Adversary Productions)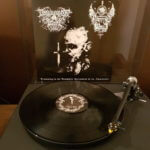 While I'm not exactly fanatical about gothic, romantic, vampyric and / or melodic Black Metal, there are a few exceptional bands producing this kind of music, including these two and Black Funeral.
'Drowning In The Vampyric Sacrament Of The Immortals' is a wonderful split album, featuring over 40 minutes of mid-to-fast-paced melodic, sorrowful, raw-ish but accessible blood-sucking Black Metal.
My copy has a glitch at the end of 'The Hunt (Sustenance)' which prevents that track from finishing – a real frustrating experience which I've contacted the label in a desperate bid to hopefully resolve. I'm assuming I've just been unfortunate and that this problem isn't applicable across all 300 copies (yes, another low-limitation release, which diminishes the chance of scoring a replacement…).
An insert would have been welcome, too, but the lack of one isn't as disappointing as the aforementioned broken-record-repeating-itself-ad-nauseam issue. A great album, undoubtedly, and one I'd readily grant full marks to but, from a personal perspective, it's impossible to look past the fact that my copy isn't working.