ARFSYND – HESYCHIA LP (Daemon Worship Productions)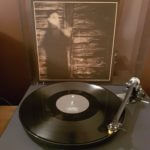 Arfsynd's monstrous second full-length, 'Hesychia', was at the pressing plant waiting patiently to be born into the world in 2013 when the guy who ran Daemon Worship just disappeared.
Eventually, Perditor, the creative force behind this exceptional Swedish one-man entity, took up an offer from the plant – sensing an opportunity to negate their losses – to buy up all 300 copies of the record and distribute them himself.
Thus, despite nevertheless managing to fly well beneath the radar, these six magnificent tracks of exalted orthodox Black Metal are available through select distros and also directly from the Arfsynd Bandcamp page. Just as well because this record was far too great to slip through the net. It both sounds and looks fantastic, with great artwork and a printed inner sleeve including lyrics.
Not sure if it's officially a DWP release or a self-released album but it hardly matters either way. And it's cool that the revenue-generating self-interest of a commercial enterprise has resulted in a superb underground album becoming available to tramps like us.
Evilometer: 666/666