ELLORSITH / MANNVEIRA – ELLORSITH / MANNVEIRA MLP (Dark Descent Records)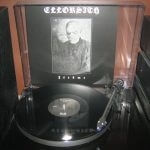 Fantastic stuff here courtesy of two proper underground acts – Ellorsith from Canada and Mannveira from Iceland. The former offer another conceptual piece of work, this time centred around the story of Jerome of Sandy Cove, while the Reykjavík-ians(?) also submit two stellar tracks.
In total, we get less than 27 minutes of music. But it's great music and well worthy of your money.
Evilometer: 555/666