TEMPLE NIGHTSIDE – THE HECATOMB LP (Iron Bonehead Productions)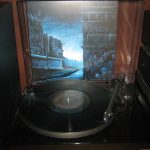 There's a brilliant collective of Australian artists toiling away in the darkest depths of the underground making some of the most amazing music in the world right now. Between Ill Omen, Vassafor, Sinistrous Diabolus, Grave Upheaval and the tremendous Temple Nightside (to name just a handful of the more prominent parties in the cooperative), it's a veritable Black / Death Motown down there. These bands are all utterly fantastic, so much so that one could almost survive on Australian occult metal alone.
Temple Nightside's second full-length, 'The Hecatomb' ups the ante, if anything. Oppressive, ritualistic and decidedly despondent, it's hard to fathom how an album like this can leave the listener feeling so elevated. This is a celebration of darkness that will drag you so low into the mire that you become stripped of all hope and reborn in your natural state – one of utter despair.
Once you accept the worthlessness of yourself and everything around you and embrace the absolute certainty of death, you are free. Free to enjoy what little time you have left. Much of which could be spent listening to this sublime record – embellished with a gatefold sleeve, eight-page A4 booklet and poster – over and over again.
Play it to death.
Evilometer: 666/666