HOWLS OF EBB – CURSUS IMPASSE: THE PENDLOMIC VOWS LP (Nuclear War Now! Productions)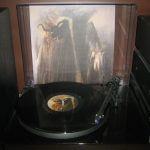 Sometimes the easiest reviews to write are also the most difficult ones. 'Cursus Impasse: The Pendlomic Vows' is a staggering album but it is so complex, ambitious and out there that I would struggle to come up with a description or analysis that would do it justice. So I'm not even going to try (all that much).
As a general rule, I abhor anything that's even remotely technical or progressive, yet Howls Of Ebb undoubtedly fall into both of those categories. The seven tracks (42 minutes) on offer on their second full-length are anything but straightforward, coming across as a more challenging, supple and sinuous Portal; more angular, more disjointed but at the same time still more accessible due to the disinfected production, complete lack of murkiness and the (impressive, for a change) technical prowess of the musicians (something I usually run a mile from).
A wankfest admittedly but it's all rather astonishing and there is so much going on that each repeat listen brings a whole new experience. The inclusion of a sumptuous booklet and poster seal the deal on an all-round winner that succeeds partly because it dares to be different – a dangerous road populated by the corpses of so many who have tried in vain to get the balance right but fallen on their own swords while I sneered contemptuously.
Evilometer: 666/666