EMBRACE OF THORNS – DARKNESS IMPENETRABLE LP (Nuclear War Now!)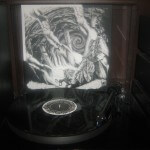 You have to take Embrace Of Thorns with a pinch – nay, a bucket – of salt. In the band photos on the back of 'Darkness Impenetrable', the Greeks look almost like a parody of themselves. And don't even get me started on the five members' pseudonyms (I wonder has Nuctemeron Bestial Ravisher of the Divine Harmony filed his tax returns yet; what sports does Archfiend DevilPig partake of?).
Then we have the song titles – 'Erect Bloodstained Totems' has to be one of the most unfortunate in the history of Black Metal. Clearly, what we have here is dumb musick aimed at idiots. Only a total braindead fool could enjoy this, right? Well, I love Embrace of Thorns and I love 'Darkness Impenetrable'.
The vinyl comes in a black-and-white gatefold cover, with fun lyrics and naff band photos included. Most importantly, the music slays. Ripping, refreshing, fun Black Metal. Devil horns!
Evilometer: 666/666