INFERNAL WAR / KRIEGSMASCHINE – TRANSFIGURATIONS LP (Malignant Voices)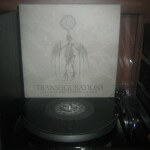 Finally, a vinyl edition surfaces of this rather wonderful, all-Polish split release from five years ago. The album may be only 28 minutes long (with a pretty equal contribution from each band) but 'Transfigurations' packs a real punch – just enough to keep you coming back for more.
Kriegsmaschine can do no wrong and their two tracks on Side B are of the very highest calibre. While the three Infernal War tunes aren't as aggressive as I was expecting, they are nonetheless thoroughly enjoyable.
To cut to the chase, this is a very good record, presented in a lovely gatefold jacket, featuring lyrics and some cool artwork. Worthy of investment.
Evilometer: 555/666